If you've just completed your studies, finished a boot camp, or even if you're a late-career changer, taking the leap into a tech role can be intimidating no matter how old you are, how much experience you have and what path you decide to take. This article will provide some simple steps to get you closer to your dream job.
The pandemic may have killed the travel and hospitality sector but online businesses have thrived with retail seeing a huge 22% increase in online sales in comparison to prior years; jobs in tech have seen the biggest rise to accommodate pressure on the digital workforce and now is the best time to make your move to the exciting world of tech.
Making the decision to move to Data Engineering from being a Graphic Designer was the best decision I made during the COVID-19 pandemic. Seeing all my peers progress into Director, Managerial and Senior roles made it even more difficult to overcome that ego, reset and go from knowing a lot to not knowing very much, and starting from scratch. The pandemic gave us the downtime needed to reflect. I had always dreamed about work in development but never had the confidence to go for it – this year was the year of BIG change.
When you're starting out everyone tells you how difficult it is to land that first job because even entry-level vacancies require you to know XYZ and have 2 years of work experience which is impossible if you don't have experience in order to get that first job in the first place *sigh*.
When I first started designing I had always found my next job via options that a recruiter would lay before me. Applying direct to companies almost always yielded 0 results. It was only when I decided to change my job hunting methods when I started to receive call-backs from direct applications – this made me realise what I had been doing wrong.
This time, I took out a whole weekend, applied to a few vacancies got a reply on a Monday and got an offer a month later but this wasn't the case of just sending your CV there was lots of prep-work to do.
If you're ready to explore your next steps and you're wondering what you need to do to kickstart that career in tech then here are some prep work you should be doing for your job hunt.
Design Your CV
Your CV is your ticket into the recruiter's VIP lounge. If it doesn't make the cut, they don't forward you to a hiring manager then you don't get the opportunity to show off your skills – that are no doubt applicable for this role. Applying for an entry-level role means there's a lot of competition. EVERYONE is entry-level. You are competing with graduates from this year, previous years, career changers and then people from all over the world. You also most likely have no or little work experience prior to this role and that's why you need to somehow stand out.
So how do make your CV stand out?
The Design
Well, it's probably biased coming from a designer but your CV design does matter. If you look at a CV with lots of tiny writing in an awful font that isn't laid out in an easy-to-read manner then you're making those 6-8 seconds it takes a recruiter to review your CV very hard for them to gauge your suitability for the role.
According to Glassdoor on average, each corporate job attracts 250 applicants, 4 – 6 will get called for an interview, and only one will get the job.
That's a lot of CVs to get through for one person. *yawn*
Your CV design will be one of the many ways to make you stand out. The easier and quicker it is to read the more likely they will read about what's on offer = you. Think of it like an advert advertising you, your skills and your value. That's a lot of CVs to get through for one person.
Here's an example of a CV that is formatted in a way so there are sections that make it tons easier to read. The use of bold for the headings, lines to separate sections, colour to pick out the sub-headings and bullet points to make each line easier to digest.
Everything about this CV is formatted in a way to ensure the reader is getting the information they need in a quick and easy way. Design isn't just about making things look "pretty" it's about adding value, meaning, highlighting, simplifying, clarifying, dramatising and persuading the reader. Design is there to solve a specific problem with the intention of improving human experience and that's exactly what a simple CV should do and can do with just the basic motion of thinking more about the design.
After my first interview, the feedback I got was that the CV stood out from a whole load of generic CVs. I later found out there were 500 applicants for the same role which was a shock to the system. I actually had 2 versions of my CV the basic black and white one and then the colourful one filled with things I loved that showed a bit of my personality. The important. thing to note here is to design according to the type of industry you are applying for. You wouldn't want a custom, illustrated and colourful CV if applying for a job in Corporate Banking. Nor would you want a corporate, generic CV for a young, start-up health app business.
Thinking about the audience and the company you are applying for is the first thing you should be thinking about before anything you do first. Reading about the industry, its competitors, the culture, the types of employees they promote on their blogs and getting into the minds of the recruiter to understand who and what they might be looking for will help with your application, sculpting your CV and your cover letter.
Canva offers completely free professional ready-to-use templates for every field you can imagine. All you need to do is pick from a huge selection of attractive CVs and then update the text to your own bits of information, download, send, print of w/e and you're done!
Cater Your CV to the Job Requirements
The other equally important thing when writing your CV is ensuring that it is specifically catered to the role you are applying for. Gone are the days of sending mass emails and CV to every single job vacancy out there. Everyone is thinking the same as you and it's not a numbers game anymore – it's quality over quantity, especially if you want to bootstrap the job of your dreams.
You should be putting energy into reading the job spec, highlighting the key skills they are looking for, the key attributes/traits they are looking for and applying to things you have done or skills that you have.
A simple trick to do is after you highlight all the keywords, use those as your headlines and titles and list your hard/soft skills that apply and then certain projects or situations that you've been in that prove it into bullet points.
Then use those bullet points to craft your CV and fill out your cover letter.
You can gauge the culture of the business by flexing your research skills on to glassdoor or looking up existing employees already working in the role you want. There is much research to back up that people like those who are similar to themselves. So figure out what it is you got that is similar + what it is that differentiates you and wombo combo that into the application.
Keep Track
If possible keeping a track of the jobs you like or apply for with information on the business, the role, requirements, email, status of the application in a spreadsheet.
This will help you organise everything so you can keep on top of it all. It will also help you understand what types of roles interest you and so you can start grouping the different jobs/fields, so you can create multiple versions of your CV and cover letter for each group.
Those highlighted skills and attributes should also be covered using real-life examples in your cover letter.
If you really want to get noticed you will need to update your application (CV, Cover Letter) for every job. Recruiters like to know that you're not only qualified but you are excited and also serious about applying for this role as recruitment is a costly procedure and every recruiter wants to hire the best candidate for the business.
Writing A Cover Letter
A good cover letter is about leaving a good first impression.
There is no doubt that writing a cover letter can be time-consuming but when looking for a job you need to make this effort once and when you get that job, that effort will pay off. Taking the time to send a CV and taking the time to write a cover letter AND send a CV can be the difference between getting completely ignored and getting a callback.
Once a recruiter reviews your CV a cover letter can cover more of your experience so use the letter as an opportunity to go more in-depth in regards to how you are fit for the role by using live examples.
If you don't have the proposed experience then you can talk about your hobbies, or the courses you are looking into or that side hustle you do that gives you transferable skills. You don't need all the qualifications or experience needed – those are listed as nice to haves by companies as long as you have the capacity for these things then you're mostly set. You want to sound excited about the role and what you have to offer and even if that is an eagerness to learn new tools or skills listed in the job spec.
26% of recruiters read cover letters and consider them critical in their decision to hire.
So, how do you write a cover letter? The easiest most direct way to order your cover letter is to:
First write about your current situation + top 1-3 acchievements (job,uni, current situation)

Then write about why you're the perfect person for the job. How do your skills align to the ones in the spec with examples of projects, portfolio or certifications.
Then you talk about why you're a fit for the company (mainly the culture) so your soft skills, your personality and strengths and what you can bring to the business
And then you can finish it off with why you want to work for their business in particular and any more links to your portfolio, cv as a call-to-action.
How to write a cover letter
Recruiters get hundreds, sometimes even thousands, of applications which means they're not going to get enough time to read your cover letter end-to-end. That is unless they deem you worthy for the role. A quick glance is all you'll get so you will need to write a banging first paragraph to grab their attention!
Writing an Attention-Grabbing Introduction
You'll want to include your top 2-3 achievements to really grab the reader's attention. Preferably, the achievements should be as relevant as possible to the position.
Another way to formulate your cover letter is to write out a list of questions a recruiter would want to ask and answer them. So your first paragraph could be the case of answering:
"Tell me about yourself and your biggest achievements to date?"
Why are you perfect for the job?
Next, you'll want to show off your skills and talents and how they are applicable for the job at hand. If you have already highlighted the keywords in the job vacancy then you'll have some guidance on what they are looking for. Use this to highlight what you have to offer in relation to those key highlighted points. What responsibilities are they looking for? What type of person are they looking for?
Let them know that is you and provide short examples of how you showed this in previous roles or at university.
You can also put some thought into your cover letter design. Although, I have always sent my cover letter via email or within the input forms available for the application. You could even go 1 step ahead and create a matching themed CV and cover letter.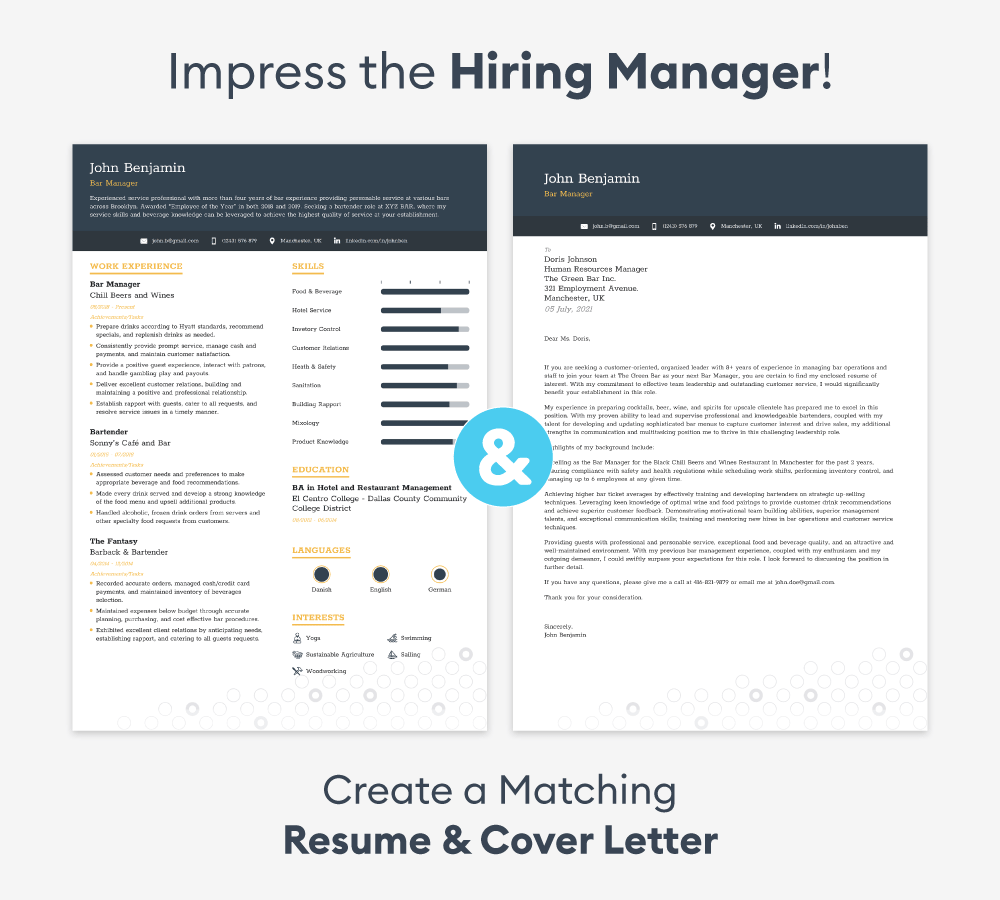 You want to show how enthusiastic you are about their company. Every time I've taken the time out to write a cover letter aligning my skills to the spec and my interest in the field I got a callback and an interview.
Create a Portfolio
An online portfolio or website is a must-have for an entry-level engineer or developer who is seeking an entry level job without much work experience. It's an opportunity to bring your past experience and skills to life. The case of show will always be better than tell.
As mentioned, the majority of applicants are first reviewed by a technical recruiter who most likely has a grasp of what technical requirements – on paper – the role requires… but that's it. Having something visual will help them gauge your fit for the role and serve as proof of what you're capable of.
A portfolio was always a must-have for every designer but moving into a more technical/development role I wasn't sure whether it was needed it. After speaking with a lot of Senior Developers they mentioned starting out fresh out of uni or going into your first tech role it was vital but after that experience and "tests" trump portfolio.
How do you build a portfolio?
There are many ways you can build an online technical portfolio but first of all, you should be thinking about the audience and what key pieces of information they will be seeking from a candidate. This will help build the user experience of your portfolio.
You can get a free website using github pages and what's more with the github student pack you can know claim a FREE domain!
Reach Out to Professionals
Networking has been said to be the creme-de-la-creme of job hunting. A lot of job vacancies are internal or not advertised therefore online networking can help you open doors you never knew existed. Furthermore, getting critique from those within the industry or working in the role you want can really help boost your application as they were once where you were and can offer some valuable advice.
This is one of the new approaches that I did for this job hunt that I hadn't done previously. After getting my CV, cover letter and portfolio together I started to go on forums, LinkedIn, Twitter and Facebook groups that were related to the field I was interested in and started asking whether those within that industry with [insert job role] could review and critique my application credentials.
I got feedback from several people which helped improve and revise my applications and then re-asked the same set + new professionals for more feedback. Many strangers out there love to help more junior members and so it's good to utilise your network as much as you can and hopefully once you get that job of your dreams you would continue doing so for those more junior than you 🙂
It would also be a good idea to get in touch with professionals who work in the field you want to enter to gather more information on their job roles. Every business is different and no matter how much you google, how much you read about your 'future career path' it will never be exactly the same. That's why it's helpful to speak to more and more people with in your future career path. This can help you sculpt out what the job is REALLY like. That means the stresses, the highs and the lows and gauge whether that job is for you. It will also give you something to talk about in interviews.
These aren't the only things you'll need when applying for jobs one you snag that interview you'll most likely have 2-8 rounds of interviews, take-home tests, case studies, in-office tests, panel interviews etc etc. There are several types of interviews that you may come across so find out which ones they are and get prepared!
Good luck!
---
If you found this post useful please support House Ninety Two: